Saving money whilst reducing waste material is of great importance to companies today. Solder recovery systems, take dross removed from soldering systems and recovers the reusable solder. With the cost of solder today, this a very cost effective process with a fast payback of the low initial investment. Typically, based upon weight more than 75% solder is recovered from dross.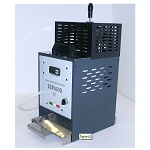 The Separo offers companies the opportunity to instantly recycle dross created during the wave soldering process, thereby potentially saving up to 50% in new solder bar purchases.
• Rugged steel construction
• Fully portable
• Chemistry free process
• Environmental and user friendly
• Light weight and small footprint
• Very low running costs
• Rapid pay-back and improved cash flow
• Simplifies dross removal process
Here is a small selection of
Solder Recovery available from Key Production Equipment Ltd. If you require information or details on other systems which may suit your requirements better please contact us.

Dross collected from the solder pot during normal maintenance operations is deposited into the chamber entrance located on the top of the unit. The dross seperation method takes advantage of the differing specific weights of the materials. The separation process can be assisted by using the plunger at the top. Then simply open the tap and fill the ingot tray at the base. When the mould is full close the tap, move the tray to the next slot and make the next ingot. Given sufficient dross to be processed the unit is capable of producing upto 6 kgs of reclaimed tin per hour.